Buying & Selling: An Introduction to Gold Jewellery
According to this recent Bloomberg article, 2016 is set to see the biggest rise in gold prices since 2010. With so many people talking about rising gold prices, you might have thought about selling some pieces of gold jewellery that you haven't worn in years. Or maybe you've considered buying gold as an investment before the price goes any higher.
But how much do you really know about gold? What are the different types of gold? What are the different types of gold carats? What makes gold different colours? Is your gold worth more as an outdated piece of jewellery or as scrap?
Here's a quick introduction to gold jewellery and the basic things that you should know before buying or selling gold.

Introduction to Gold Jewellery: What are the the different types of gold carats?
In order to make gold durable enough for practical wear, pure gold is alloyed with other metals to increase its strength. The percentage amount and the type of other metals that are used in this process will determine the final gold content and colour of the gold alloy. When we refer to 'carat', we're talking about the gold content of the metal.
What are the the different types of gold carats? As our first point of introduction to gold jewellery, let's take a look at the three types of gold carats that you're most likely to come across in the UK:
24 Carat Gold
This beautiful warm yellow metal is gold in its purest form. 24 carat gold consists of 99.9% gold and it's seldom used in jewellery because it's soft and prone to denting and bending. While 24 carat gold can be an outstanding investment, you wouldn't want to wear it.
18 Carat Gold
18 carat gold is comprised of 75% pure gold that has been combined with 25% of other metals such as silver or copper. This is why pieces that are made from this type of gold are stamped '750'.
18 carat gold is the most common type of gold that is used in fine jewellery and it's a excellent choice because it's durable, richly-coloured and it won't tarnish or corrode.
9 Carat Gold
This alloy consists of 37.5% pure gold and 62.5% of other metals. Pieces that are made of 9 carat gold are stamped '375'.
9 carat gold is paler in colour than 24 carat and 18 carat gold, and it is understandably less expensive. It has a tendency to tarnish, corrode and react with some people's skin because of the high content of other metals, and it is generally not used in fine jewellery.
Introduction to Gold Jewellery: What makes gold different colours?
Next in our introduction to gold jewellery we'll answer the interesting and common question of what makes gold different colours.
Because pure gold is alloyed with other metals in order to make it durable enough to be used in fine jewellery, it can also take on different colours.
The type of metals that the 24 carat gold has been mixed with determines the colour of 18 carat and 9 carat gold. Gold jewellery generally comes in three colours: yellow, white and rose.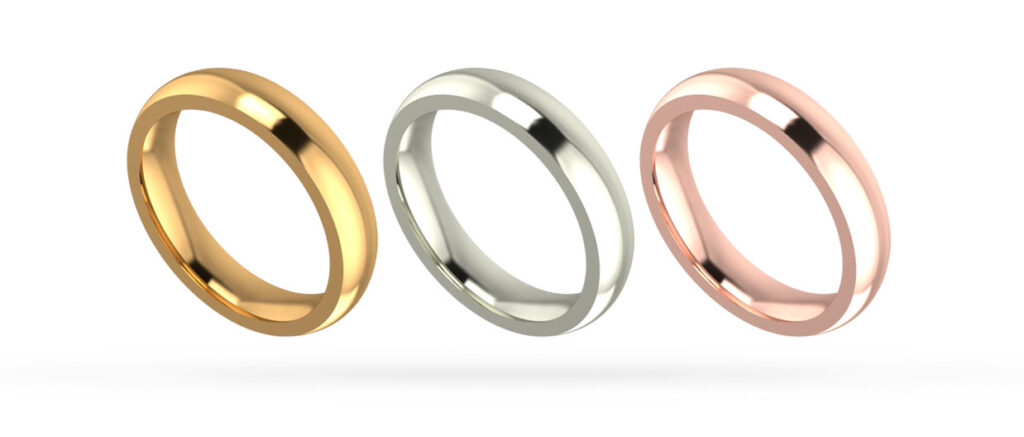 Yellow Gold
Yellow gold is what most people envision when they think of gold jewellery. Because of its colour, many people assume that yellow gold is of a higher purity than white gold or rose gold. However, 18 carat yellow gold contains the same amount of pure gold as 18 carat white or rose gold. The difference in its colour comes from the fact that this gold alloy contains silver, copper and zinc, which allows it to retain its golden colour.
Yellow gold continues to be very popular around the world because it is the most hypo-allergenic and it requires the least amount of maintenance of the three colours.
White Gold
White gold is often mistaken for platinum because of its crisp white colour. 18 carat white gold is made by mixing 75% pure gold with 25% of white metals such as palladium, nickel, zinc or manganese.
White gold is more durable and scratch-resistant than yellow gold. It costs slightly less than platinum or 18 carat yellow gold, yet it can easily be mistaken for platinum.
Almost all modern white gold jewellery is rhodium plated. Rhodium is a platinum family metal and its bright white colour helps to ensure that the white gold always has a bright, polished finish. Over time, this finish can wear away, therefore white gold jewellery should be re-dipped every few years in order to maintain its lustre and colour.
People with a nickel allergy can experience an allergic reaction to white gold. Fortunately most modern white gold doesn't contain nickel, but this could be a concern with antique and vintage pieces.
Rose Gold
Rose gold is the most affordable colour of the three because it is alloyed with copper and silver, getting its distinctive colour from the copper. It is also the strongest of the three.
Like white gold, rose gold can cause an allergic reaction. Unfortunately, allergic reactions to rose gold are caused by its copper content and so rose gold cannot be worn by people who have a copper sensitivity.
Introduction to Gold Jewellery: Historical Use of Gold in Jewellery
Now that we understand the different types of gold carats and what makes gold different colours, let's continue our introduction to gold jewellery by learning how yellow, white and rose gold have been used in jewellery over the past 150 years or so.
Yellow Gold
Yellow gold has been used in jewellery since ancient Egyptian civilisation and it has remained a prevalent jewellery-making metal throughout history.
Many Edwardian era pieces, like this 6.30 carat diamond cluster ring and this dinner ring, were comprised of a combination yellow gold and platinum. During the Art Deco period, yellow gold fell out of fashion in favour of platinum or white gold, but it became popular again in the late 1930s due to wartime restrictions on platinum and many pieces from this period, like this circa 1940s aquamarine and diamond ring and this circa 1930s butterfly brooch, were made using a combination of white and yellow gold.
Jewels from the 1950s were most commonly set in white gold or platinum, but yellow gold became fashionable once again in the 1960s and it continued its reign throughout the 1980s into the early 1990s, as jewellers like Tiffany &
Co. produced incredibly popular pieces like this ring from the Paloma Picasso Collection.
Consumers in the late 1990s eschewed yellow gold in favour of white gold and platinum, and this trend has continued since then, though yellow gold has recently shown a bit of resurgence.
White Gold
White gold was invented during the 19th century by alloying 24 carat gold with palladium and it first became commercially available in Germany in 1912. White gold gained popularity during the 1920s as a lower cost alternative to platinum, which was the preferred metal for Art Deco period jewellery like this quintessential example of an Art Deco engagement ring.
White gold became popular during WWII because platinum was needed for the war effort and the same look could be achieved by using white gold instead of platinum. However in Britain, only light 'utility' wedding rings of 9 carat gold were allowed to be manufactured from the late 1930s through the end of the war.
Because white gold has always been an affordable alternative platinum, it has never really fallen out of fashion. White gold started gaining popularity in the 1990s and has far surpassed yellow gold in popularity since then. Even luxury jewellers like Tiffany & Co. and Cartier offer their iconic designs, like this 'Atlas' ring and this 'Double C' wedding band, in 18 carat white gold.
Rose Gold
Rose gold first appeared in Russia during the 1800s, where it was referred to as 'Russian gold'. It didn't take long for this beautiful pink metal to make its way across borders, and by the Victorian era, rose gold and yellow gold dominated the jewellery fashions of the day. This circa 1880s garnet and diamond ring is a excellent example of a piece of rose gold jewellery from the Victorian period.
Rose gold fell out of fashion during the Edwardian era, but it gained popularity again in the 1920s after Cartier launched its iconic 'Trinity Ring', which was comprised of three intertwining bands of yellow, white and rose gold.
Antique and vintage jewellery tells the stories of its time. In this Edwardian era rose gold, platinum and diamond ring, we can already see a shift from the Victorian era preferences for gold towards the platinum designs of the 1920s. And the 18 carat rose gold setting of this circa 1940s three stone diamond ring reflects the wartime restrictions on platinum use.
Today, while rose gold is gaining popularity, it's still uncommon enough to be considered 'exclusive'. Rose gold is used to create unique pieces, which often have a vintage-inspired design. Many couples consider rose gold to be a unusual and romantic choice for their engagement and wedding rings.
Buying and Selling Gold
With Bloomberg's projected increase in gold prices, it's tempting to gather up your old jewellery and sell it for scrap. But not so fast!
While a particular piece of jewellery may be unfashionable, it's not necessarily the most valuable as scrap metal. It has been said that beauty is in the eye of the beholder, and this rarely more true than with jewellery. Despite current fashions, a piece of antique, vintage or designer jewellery may in fact be worth more intact than it is based on its weight. Before deciding to sell a piece for scrap, we recommend bringing it to us. As specialists in antique, vintage and designer jewellery, we'll be able to tell you how to get the most out of it.
Likewise if you're looking to invest in gold jewellery, then antique, vintage and designer jewellery can be a great choice. These pieces tend to hold their value over time due to factors such as brand recognition, craftsmanship, design and age.
While gold prices can be volatile, gold is widely viewed by investors as a wise bet against inflation and other economic factors that could potentially cause a drop in the global stock markets. For this reason, many investors hold physical gold in the form of bullion or coins.
Whether you're looking to sell the gold jewellery that's been lurking in the back of your drawer for decades, or you're looking to invest in gold bullion or coins, we can help you. We invite you to stop by our Hatton Garden shop to receive a free valuation of your scrap, antique, vintage or designer gold jewellery, or to enquire about gold bullion or coins for investment purposes. You're also welcome to enquire by email, you can find out more here.