History of Engagement Ring Styles: Victorian Era through Today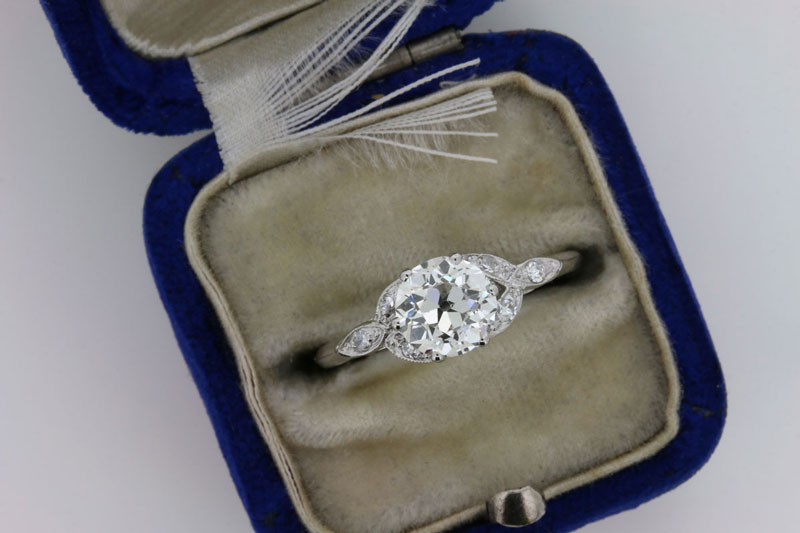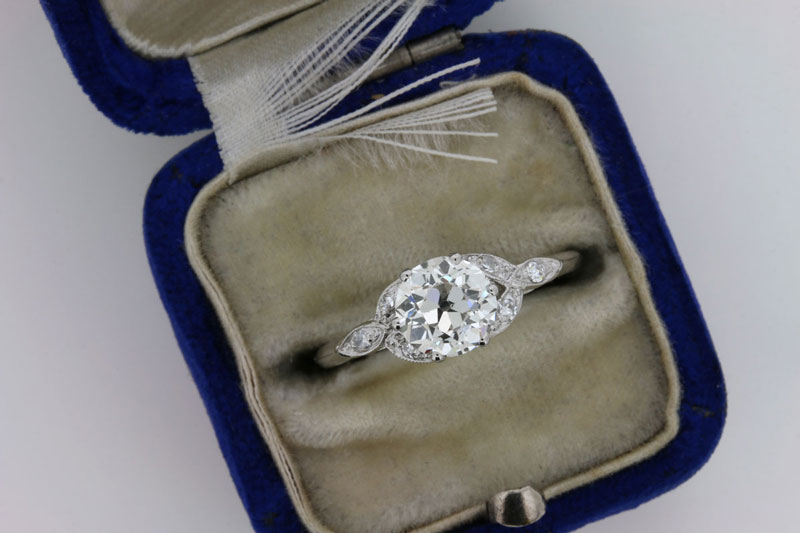 Steeped in tradition, a marriage proposal accompanied by the requisite ring is one of life's most anticipated milestones. While some grooms-to-be have the good fortune of proposing with a family ring, for most, an engagement ring is likely to be one of the most significant purchases he'll ever make. At the same time, an engagement ring is the most elaborate piece of jewellery that many women will ever own.
But how did this tradition come to be and how has the history of engagement ring styles evolved over the past 150 or so years?
While the ancient Egyptians and Romans were among the first civilisations to exchange wedding rings, the first recorded mention of a diamond engagement ring was in 1477 when Archduke Maximilian of Austria proposed to Mary of Burgundy. This started the tradition among European nobility and the aristocracy, but it didn't take off among the middle classes until the Victorian era.
Whether you're looking at a ring from the Victorian, Edwardian, Art Deco or Post-War era, or something more modern, each ring tells the story of its time.
Let's take a look at the history of engagement ring styles from the Victorian era through today…
History of Engagement Ring Styles: Victorian (1837 – 1901)
With the Victorian era rise of the middle class came an increased demand for jewellery. Though any fancy ring was an acceptable engagement ring in this era, it was during this time that young women began dreaming of (and expecting) a diamond engagement ring.
In 1886, Tiffany & Co. launched their infamous six-claw diamond solitaire setting in which a single diamond is perched atop a plain band.
This style had already been prominent in engagement rings of this era, but Charles Louis Tiffany's rendition solidified its eternal place in engagement ring history.
For couples of more modest means, diamond solitaire rings featuring a pearl, or cluster rings featuring multiple diamonds arranged in a 'daisy' pattern were very popular and so were 'crossover' or 'toi et moi' (French: 'you and me') rings featuring two diamonds intertwined, possibly with accent stones, representing the joining of two hearts, souls and lives.
History of Engagement Ring Styles: Edwardian (1901 – 1915)
Leaving behind the heavy designs of the Victorian era, Edwardian era engagement rings leant towards more delicate designs. Early Edwardian era jewels were comprised primarily of 18 carat yellow gold with platinum accents to accentuate the diamonds. In 1903, a new invention made it possible to work with platinum in such a way that yellow gold was no longer necessary in jewellery fabrication.
Jewellers fully embraced this technology and the resulting pieces featured fanciful scrolling filigree designs with pierced open work detailing, millegraining and knife-edge settings. Many engagement and wedding rings from this time were engraved with a laural leaf pattern to guard against divorce, with oak leaves to symbolise strength and ivy for clinging devotion.
WWI ended this period in jewellery design, but Edwardian era engagement rings remain some of the most romantic and desirable antique rings available today and their influence can be seen in modern renditions of the era's timeless styles.
History of Engagement Ring Styles: Art Deco (1920s – 1930s)
One of the most notable periods in the history of engagement ring styles is the Art Deco era, which lasted from the early 1920s up until the late '30s. Whether platinum or white gold, white metal with millegrain accents was the prevailing fashion in Art Deco era engagement rings. New gem-cutting techniques introduced calibré cut gemstones and diamond baguettes to the jewellery designers of the day.
Engagement rings from this era often featured bold geometric designs with a larger stone set in the centre of a border comprised of round and baguette cut diamonds or of coloured gemstones. Rings from this era are some of the most recognisable and sought after even nearly 100 years after they were made.
History of Engagement Ring Styles: Retro & Post-War  (1940s – 1950s)
During WWII, platinum was strictly reserved for the war effort and most jewellery was once again made of gold. Diamonds were scarce during the war years and engagement rings from this era often featured less expensive coloured gemstones or diamonds that had been re-set from older pieces.
After the end of the war, jewellery production began to ramp up again without restrictions and in 1947, De Beers ran the infamous 'a diamond is forever' campaign. Almost overnight, diamonds became the engagement ring gemstone with modestly-sized diamonds being presented in white gold illusion settings in order to make them appear larger. Wedding sets consisting of an engagement ring and coordinating wedding ring in a combination of 18 carat white and yellow gold were extremely popular into the 1950s.
Platinum once again became the metal of choice for 1950s era engagement rings with a return to larger principal diamonds that were often embellished with accent stones. Couples of more moderate means often opted for white gold illusion settings with large claws. Rings from this era often featured millegrain details, a holdover from their Art Deco predecessors.
Celebrity Influence and New Shapes:  1960s through 1980s
The trend of square-shaped stones that started in the '60s continued in the 1970s when princess cut stones were perfected. In typical 1970s fashion, jewels from this era emphasised quantity and the most prevalent styles of the decade featured a large stone surrounded by a sizeable array of smaller stones to form a glittering cluster.
The 1980s brought one of the most famous engagement rings of all time, the oval-shaped sapphire and diamond ring that was given from Prince Charles to Lady Diana Spencer in 1981. This ring kicked off an immediate trend towards similarly-set engagement rings featuring a variety of coloured gemstones and a return to white gold and platinum settings.
Modern Engagement Rings
Today's couples have a nearly unlimited choice of engagement ring options in terms of metals, gemstones and styles. Whether a couple's taste leans towards showstopping opulence, streamlined sophistication or something in between, they're bound to find the ring of their dreams!
While some modern engagement ring styles harken back to styles of the past, the emphasis of most is on the shape and cut of the diamond. This is reflected in the unwavering popularity of the diamond solitaire, that enduring style first popularised by Tiffany & Co., in the late 1800s.
A modern rendition of this classic style is the popular micropavé diamond halo, which can feature diamond-set shoulders, often with the diamonds extending down the ring's shank or even all the way around in an eternity setting.
With bespoke service being more affordable than ever, many couples are choosing the exact metal(s), stone(s), proportions and style of their ring.  Having a one of a kind engagement ring made to their exact specifications is often the perfect choice for modern couples who want something unique with a story to tell.
The right ring for the right person…
We have one of London's largest collections of antique, vintage and pre-owned diamond engagement rings. Our ever-changing inventory includes rings dating from the Victorian, Edwardian, Art Deco, and Post-War eras, as well as pre-owned modern rings from luxury jewellers such as Tiffany & Co., Cartier and Theo Fennell. We also have an on-site CAD designer who can work with you to design the ring of your dreams.
Regardless of what style of engagement ring you're looking for, we pride ourselves on helping our customers to find the right ring for the right person, within their budget. We invite you to browse our vast online inventory of engagement rings, or better yet, stop by our shop in Hatton Garden to see them in person.